Add Value to your Moodle
with the Anders Pink Content Curation Plugin
Beyond Formal Courses: External Content Matters.
You want your learners to stay up to date. Formal learning courses and programmes are vital, but they go out of date quickly. New content is produced every day. How do you bring it into your Moodle or Totara LMS or to support continuous learning?
You and your learners could check Google, news feeds, LinkedIn, Twitter lists, industry sites and blogs, and share the best links. But this takes a lot of time and effort. And if you're not doing it every day, you're missing the latest, most relevant content.
What if all of the relevant external content could be automatically filtered the way you want it, updated every few hours, and displayed where learners need it: in your Moodle, alongside your courses?
Thats where we can help.
Anders Pink plugin for Moodle or Totara: Making content curation easier.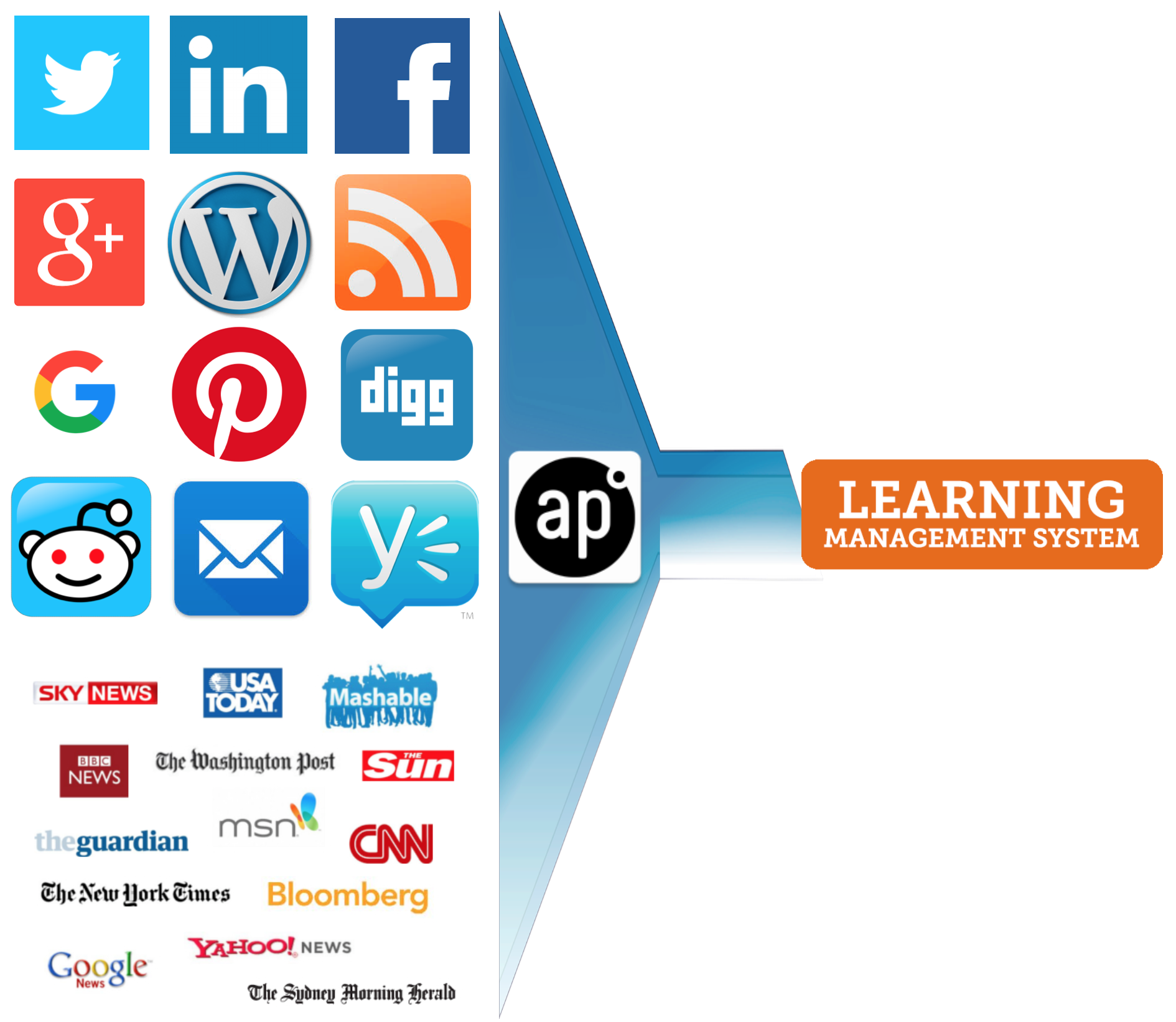 Our plugin for Moodle or Totara allows you to easily curate, control and display relevant external content alongside your blended programmes and courses. This content can be updated automatically every few hours or you can manually curate and decide which articles to display.
3 Simple Steps to Great Curation:
1. Get the Plugin and API key
Our plugin is available on github here
It comes with a test API key so you can see the power of embedding the latest content in your courses. We include 10 standard topics that are updated every few hours with fresh content.
To make your own curated content, see pricing below. Contact us to buy or arrange a 14 day trial, so you can create your own constantly updating topics.
2. Create your briefings in Anders Pink
You can automatically curate content from across the whole of the web. You simply create rules or filters for your curated content and Anders Pink will crawl millions of articles every day to find content that matches your curation rules. For example:
only articles on leadership from Harvard,

all articles about elearning trends from across the web,

articles on Facebook Marketing Tips,

articles shared by specific elearning influencers,

articles on social learning from the top 40 elearning blogs

latest articles published by specific companies such as clients or competitors
You can use any combination of keywords, domains, Twitter influencers or RSS feeds.
Anders Pink delivers the content as a briefing- a collection of articles which is updated every few hours. You can choose to display any number of articles from this briefing automatically.
You can also curate content manually. Simply review the articles Anders Pink brings back each day and save the ones most important to your learners to a saved board. You can then choose to display this curated content. In this way you can really control the content that is displayed.
3. Display Curated Content In Your Courses as a Block
Once you've created your briefings, you can display your briefings directly in your Moodle on any page or course as a Moodle Block: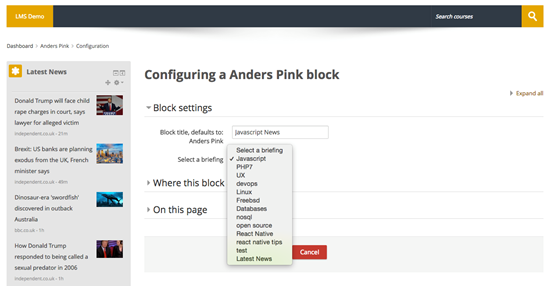 You can then display them on any page in a variety of layouts:

So now you can now provide fresh new content daily to your learners to support your courses, with very little effort. The content is automatically updated every few hours.
For example:
Embed the latest external articles on leadership as part of your leadership course

Curate a reading list on trends in cloud computing and start a discussion on the impact of these trends

Set an assignment to analyse and share views on emerging trends in AI based on latest articles

Show the latest industry news on your Moodle home page
The video below provides an overview of how the content curation block works.
Download the Content Curation Plugin for Moodle or Totara.